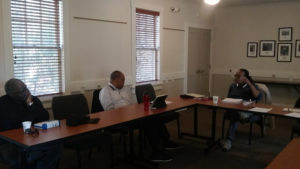 Are you a student that needs the comfort of others? Love the feel of energy to push you across the line? Several times a year. I hold group coaching sessions. These are intensive hands on "workshops" where we put together your business from scratch.
You might think of your coaching group like having a personal board of directors. A synergy of energy, commitment, and excitement is created by what the participants bring to the group. One of the many bonuses to Group Coaching is that the participants raise the standards by challenging each other to create and implement targets/ dreams/ goals.
Not only will you gain tremendous insights, which can improve your business and personal lives. – Group Coaching is highly effective and an efficient use of time. You call from the convenience of your home or office or any location. There is no need to drive anywhere.
Group Coaching is a wonderful opportunity to receive coaching while benefiting from the successes and challenges of the other group participants. It is a way to receive double the coaching at half the cost!
Lastly – this is not a workshop–it is Group Coaching. In a workshop, the instructor determines what information and content is taught. In Group Coaching, the coach facilitates and coaches, taking cues from the group. The agenda belongs to the group, and your participation is key. Your peers give you feedback, help you brainstorm new possibilities, and set up accountability structures that keep you focused and on track-all over the telephone.
How it works:
There will be 4-6 coaching sessions that are about 90 minutes each.  Each session will have work assignments for you that will be followed up by our group coaching. The group sessions are intense and designed to dig deep into your mind and spirit and draw out a custom business model that will position you for optimal success. The groups are small, between 5-8 people, and are designed to be interactive and to create a supportive learning environment in defined topic areas.
Group Coaching occurs over the telephone and is convenient and affordable. Your coach will be on the call to greet you as you sign in with your first name along with all the other participants. The call will then begin by covering the specific topics for the session. Participants are urged to come prepared with a specific goal in mind for the program and be willing to take action. Discussion of those actions, coaching through artful questioning, guiding and supporting will be an integral part of the Group Coaching process.
Group members simply pick up their phones and dial the telephone conference "bridge-line" (given out ahead of time). The bridge-line is reserved at a special time for the group to use. The teleconference call is a very convenient and effective method of interacting. You can come to the group as casual as you want in the comfort of your own home or office! No extra time spent driving somewhere, or paying parking fees. Some of our members meet in my office and we all jump on the conference call.
Group Coaching is $150 a month and meets via telephone twice a month. Each session lasts one hour. Because the nature of Group Coaching is relationship based and intense, a commitment of a minimum of three months is required. Group size is limited to 8 participants so that everyone can get personal attention. Groups fill quickly; register early to avoid disappointment. Groups are in the process of forming; please email me if you are interested in joining a group. Indicate in your email whether you prefer day or evenings, and what time zone you are in.
Who Should Attend These Sessions?
People who:
have the desire and inspiration to make this year extraordinary

want to contribute as well as evolve

want but not necessarily need supportive partners

want to reach or exceed their goals

are ready to move outside their comfort zone

are committed to making the shift from settling for an ordinary life to one that fulfills them on new levels

are ready to let their desire to be passionate about their life and work overcome their fear of change

want to explore specific topics and diverse views within the context of a group

are willing to support and provide privacy and safety when others share what truly matters to them
At the conclusion of the program, you will have completed a detailed Business Summary Report that will clearly identify and our findings and outline your execution strategy.
Because of the intensity of this program, I only offer 3-4 group sessions per year. Contact me now to find out when the next group session starts. Send an email to